Hello!
Isn't it weird to start an entry with 'hello'? I think so. It feels like I know who I am writing to. Some time ago, my dog farted. I am especially amused because she jumped a little when the gas came out of her behind, and then she stared at me as if questioning, 'what was that noise? erk, it kinda stink too!' And then, I caught my other dog sniffing poop. Why would you want to do that? Unless, there is some leftover from the last meal you had. Dogs are weird.
I've watched 'Angus, Thongs and Perfect Snogging' again. I am still really disappointed that Aaron Johnson chose to marry Sam Taylor Wood. He was so dreamy, like a real teen heart throb in the movie. And then I googled the recent photos of himself and he aged so much, like a 40 something.
Look at this beautiful creature!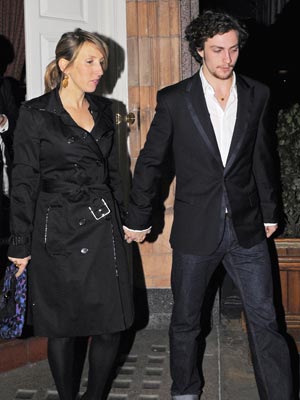 Holding hands with his lover. Damn, he looks much older now.
Ultimate self-destruction!
My mom told me that no money can buy youth, but certainly, I wouldn't want to be paid to look aged either.
If you get what I mean?
Since it isn't a secret that some actresses, in this case actors, have relationships with powerful people in that industry to have more opportunities. I keep thinking of the scene where Robbie (character Aaron was playing) and Georgie kissing! :(
School's boring. Hopefully my final year project will be great and go according to my plan. Anyway, I have to go now!